An unusually warm Texas January; 70ºF days, cool nights, my son had baseball try-outs, then…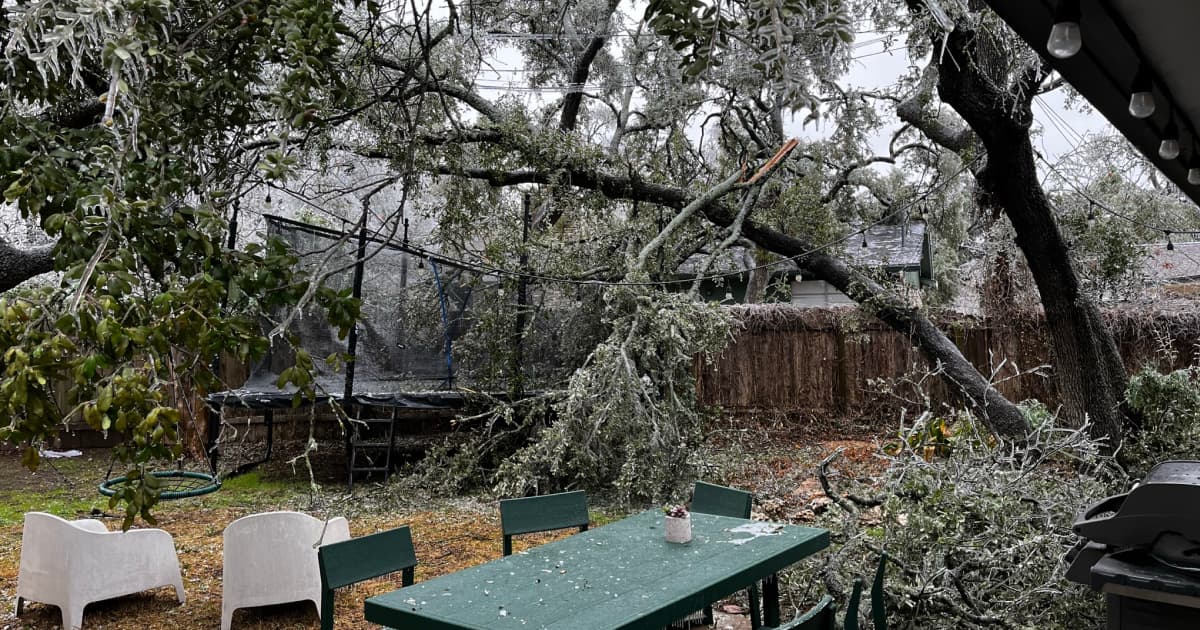 On the last day of January, a horrific ice storm hit Central Texas. My house lost power and internet on Wednesday morning as thick tree limbs snapped under the weight of ice, taking out power lines and transformers on their journey to the ground. Hurricane-like devastation. We took refuge at a friend's house who had power, then lost power, but had a backup generator. I went back and forth to the house to saw branches and sleep with the animals in our cold, powerless house. In total, 125 hours without power, beating out the previous record of 75 hours set in 2021.
Last week brought up a lot of trauma from the 2021 Freeze. My wife and I wonder how much of the off-grid prepper lifestyle we need to adopt to live in one of the most popular cities in America. It's ridiculous that I –a city dweller– incur a morbid libertarian obligation to own a backup power generator, a backup Starlink internet connection, and a chainsaw because my city and state can only keep the lights on 50'ish weeks a year. Austin has a lot of growing up to do. We've prioritized growth over infrastructure for decades.
As isolated as this weather event was to Austin, I think it's a glimpse of climate change's impact; extreme weather and now 100 year storms happen every year. Major weather related catastrophes happen from coast-to-coast every other week. Every American taking a week off each year to deal with a disaster surely isn't sustainable… right?
Anyways, lots of thank yous. Thanks to the Paulsens (who own UPLIFT Desk) for harboring our family. Buy their desks, they're good people. Thanks to my neighbor Jason, his son Will, my friend Daniel, and landscaper José who helped me take down a big branch that fell on my roof without breaking any windows. Thanks to neighbor Dennis for helping clear our neighbor Kathleen's yard. Thanks to everyone who watched my kids for a bit. And thanks to all friends and neighbors who offered their help or a warm home, it means the world.
On the brighter side…
Despite an epic failure of local infrastructure, other parts of life are proceeding nicely and January was an okay month.
New glasses
I got a new prescription this month. Actually, I got 4 new prescriptions: 1 for regular use, 1 for close-up use (like reading or model making), one for contacts, and one for those reader glasses you buy at Walgreens. Yep, I'm old. I'm learning that in your 40s your eyeballs change shape because your eye hardens and your lens shifts a bit. But my optometrist thinks I also had a stress-induced event that changed the shape of my eye! Yowza. The result was my glasses were too powerful and my brain was working overtime to correct my vision. This manifested in me constantly switching between putting my glasses on and off and getting a mild spell of vertigo each time. New glasses means I eliminated a whole category of ambient stress in my life.
New sleep tech
Continuing that theme of reducing ambient stress, this month I prototyped an honest-to-god invention to help me sleep better. I'm a tummy sleeper (army crawl pose) and as other tummy sleepers over 35 know, you live your life in an injured state with a busted shoulder and sore back. That pain cascades to my hips as they attempt to compensate and then my lower back goes out. Tired, I'm trying to fix it with prototypes! It's working great. My shoulder isn't in daily pain, I'm not in pain and bend fluidly in the mornings. Even my chiropractor noticed a difference. Hooray for eliminating more ambient stress.
Getting Luro ready
Luro is pushing hard towards broadening the private beta for more teams. We've poured a lot of effort into rolling out new features, fortifying old features, and upgrading the onboarding experiece. The amount of polish and smoothing out of rough edges makes it feel like a whole new app compared to a month ago. It's a fun but anxious time. It feels like we're about to open the gates to the amusement park.
Stats
An itemized list of all the content I've produced or consumed. This is what you come here for.
📖 Reading
Not trying for the Book-a-Week Club but ended up on pace. Made good on my Japanese-language manga goal by acquiring said manga. My friend Zach hauled back a handful of volumes from his recent trip to Japan. I've got Gundam manga, kaiju manga, and a handful of others. It's enough Japanese manga for the rest of the year I'm sure.
Finished
Friday, Book Two - A mystery, a murder! Friday, back from her first semester at college, gets roped back into the old business.
Mobile Suit Gundam: The Origin, Vol. 1 - Vol 1 of 12, this 400pg manga adds depth to the original animated series.
Trust - I like Pete Buttigieg and this book talks about what is missing in America, trust. Trust in government, trust in institutions, trust in our social fabric, trust in your fellow man.
"You Just Need to Lose Weight" - A book about anti-fat biases.
Quiet - A book about introversion.
Started
Mobile Suit Gundam: The Origin, Vol 2 - Vol 2 of 12, epic panel after epic panel.
ダンジョン飯 (Delicious in Dungeon), Vol 1 - Fantasy dungeon crawler meets food blog
機動戦士ガンダムTHE ORIGIN MSD ククルス・ドアンの島 (Mobile Suit Gundam The Origin MSD - Cucuruz Doan's Island) - The Gundam Origin told from the antagonist Zeon perspective.
Thanks for the Feedback - Val recommended this and it's great so far.
📝 Blogging
A successful month of blogging with 10 posts and an unexpected story arc when I learned I was shadow-banned on Bing and DuckDuckGo. The mystery got solved; my blog and thousands other small, personal blogs were mistakenly flagged as "spam".
General Posts
My entire Bing saga
📺 Media
Made good on my New Years resolution to watch more TV.
TV

LEGO Masters Season 1-3 (Hulu) - Good old fashioned reality competition television. Powered through three seasons, roped the kids into it. It also gave me an excuse to practice my Will Arnett impression.
Mythic Quest Season 2-3 (Apple TV) - I love these idiots. Poppy Li might be one of the greatest characters on television and S02E06 Backstory! is the best episode of television I've watched in a long, long time.
Poker Face (Peacock) - It's modern Columbo but created by Rian Johnson and stars Natasha Lyonne. It's perfect. Best show on TV?
Cunk on Earth (Netflix) - The entire history of the Earth in the style of a Daily Show segment.

Podcasts
🎙 Recording
Got to be on a livestream and talk to some interesting guests.
I joined the Kevin Powell livestream to talk about creating web components.
ShopTalk continuing into its 12th season with some good guests.
🧶 Crafting
Continued my Gunpla obsession this month with four different builds. And I've got four more in the backlog.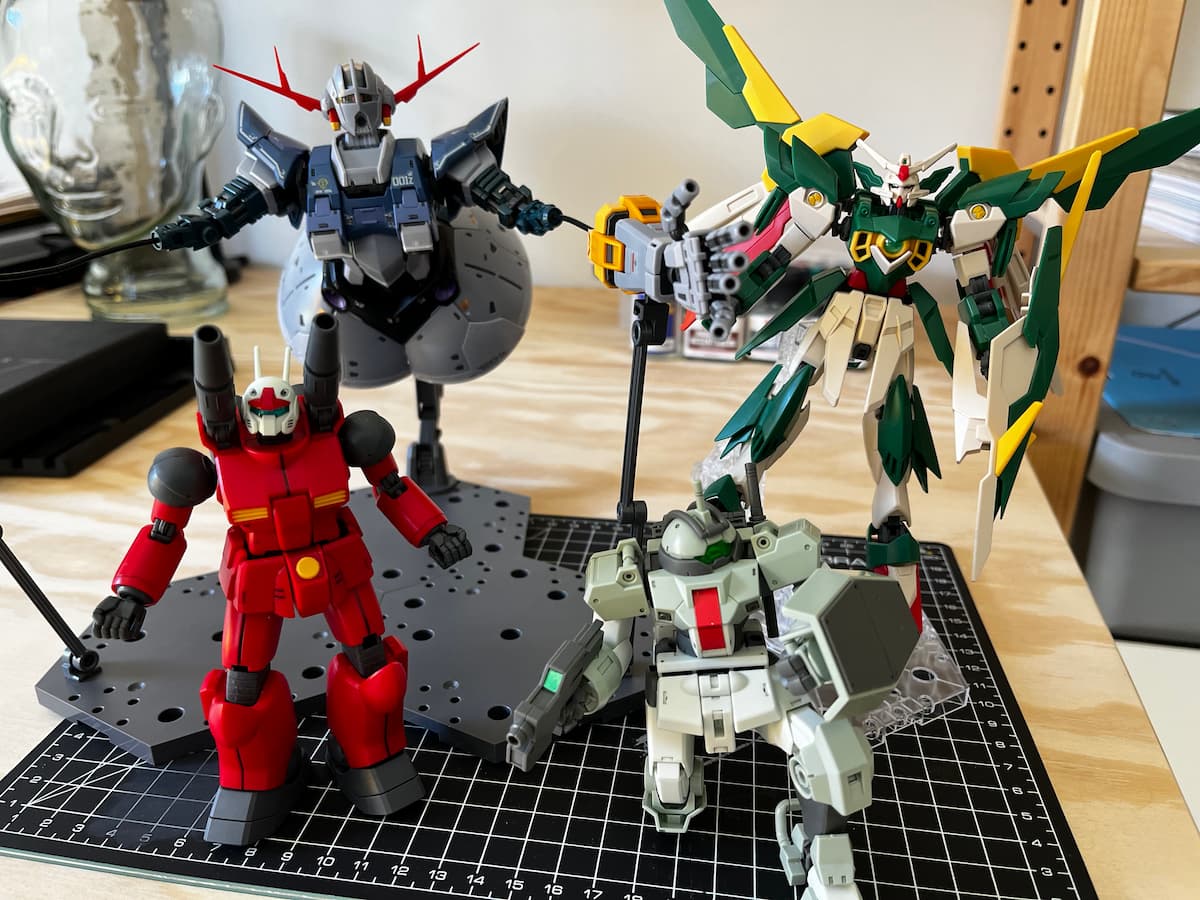 ⌨️ Open source
👾 Video games
Brawl Stars - My son and his friends roped me into this Supercell game.
Overwatch 2 (Season 2) - Completed the battle pass! That will never happen again.