April was a busy month of new happenings and finishing projects. I did a new workshop, we got a new lawn, my kids are learning new skills, my wife got a new (short term) job, new developments at my new company, a new blog design, and to cap it all off I turned a new age number which is for sure what people call having a birthday.
A new lawn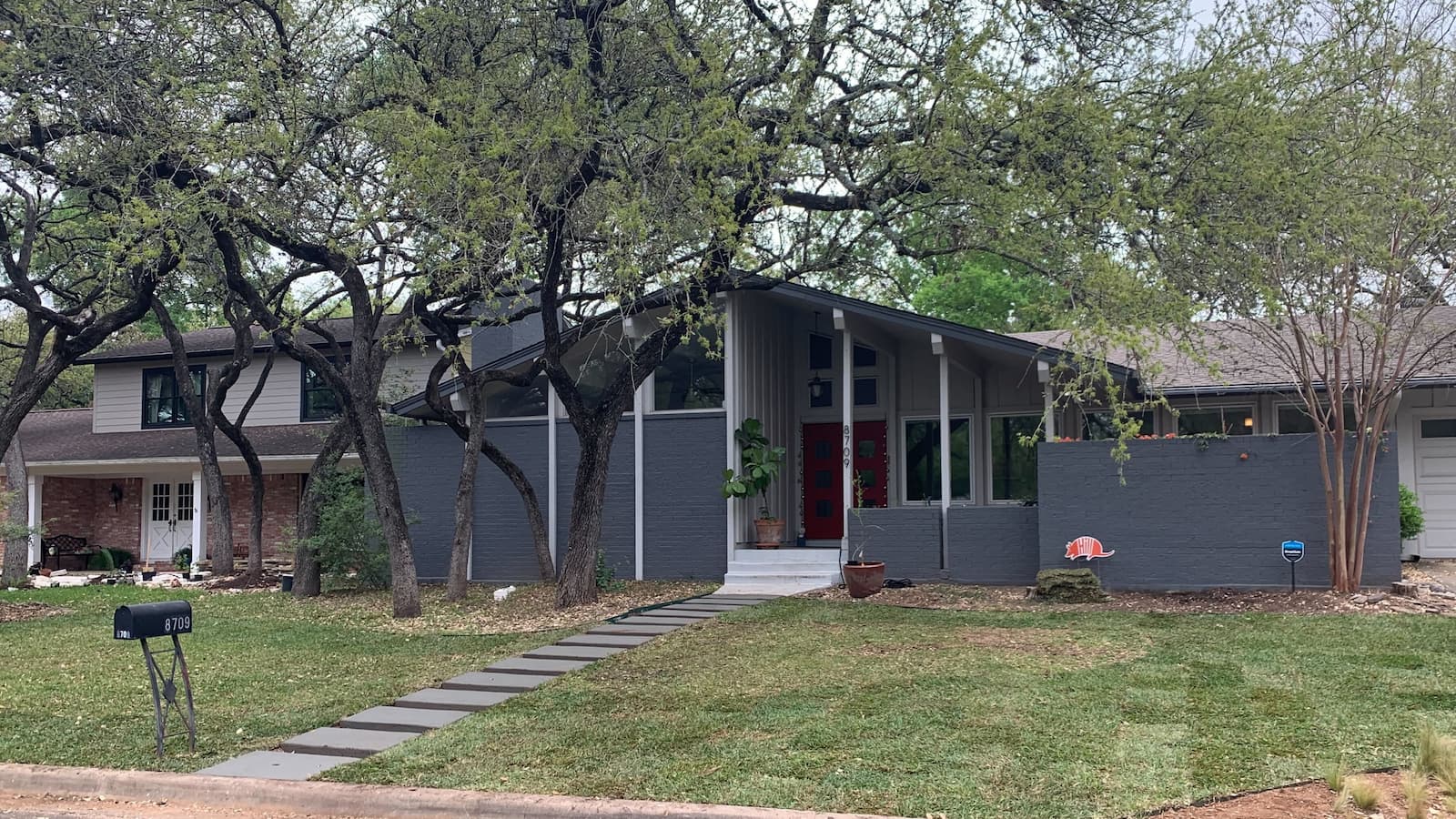 My wife and I have wanted to redo the yard for awhile now. In Austin it's hard to find people to do the work. We even offered someone an obscene amount of money to help us and they didn't even call us back. Then our neighbor Jim said he was getting his bushes replaced by a guy named José. We asked José, not expecting to hear back, and he said he could start that week.
Surprise remodeling project! Setting the landscape (heh), while the existing landscaping was wonderful and charming, in practice it didn't work well for our family. My wife and I worked hard to narrow the scope and priority of the projects we needed done.
Project #1: The front yard
The front yard zeroscape treatment featured two amoeba-shaped rings of grass surrounded by crushed granite rocks. Modern, low maintenance, but the slope of the front yard causes all those rocks wash into the street every time it rains. I get the joy of looking like an asshole once a month shoveling the rocks from the street back into my yard. Project #1: Replace rocks with grass.
We also needed some concrete steps, but I didn't want to blow the scope of the project and delay it further by mixing trades, so this was #4 on our list of priorities.
Project #2: The rock pit
In the backyard I worked hard to remove a big area of english ivy and revealed a rock pit. Yikes. A haven for snakes, roaches, and mosquitos. I removed the rocks and thankfully my other neighbor Jason took some of those rocks, but I still had two mounds of dirt surrounding the pit that must have been a pond at some point. Now every kid loves a rock pit to play in, but a flat patch of grass would be more useful to our family. Project #2: Fill pit with dirt and cover with grass.
Project #3: The side yard
On the side yard, we had another english ivy zone that didn't do much other than eat lost toys. Ideally this could be usable space where we could park our garbage cans or possibly another camper one day. This was a stretch goal. Project #3: Convert ivy side yard to a crushed granite pad.
I love it when a plan comes together
I was happy to do this all as separate projects over different months, but José and his crew made some on the fly decisions that tied the projects together and made everything more efficient.
They removed the rocks from the front yard (Project #1) and dumped them in the side yard (Project #3). Then they took the dirt mounds from the rock pit (Project #2) and used that as fill for the front yard where the rocks were (Project #1). After about two days of work, we were ready for the four pallets of sod.
As we were preparing for the grass, José said he knew a concrete guy. A couple of quick conversations and we were pouring concrete within the week. The total turnaround time on the entire project was about 2 weeks. In the blink of an eye, I had a new front and back yard.
St. Augustine is a hearty stubborn grass that grows well here in Texas. It's a bit water-hungry and I know that's going to bite me in the upcoming Water Wars, but I think grass was a good choice and my microbiome seems to support it (we were the only rock yard on the street). And the results seem to have had a cooling effect on the whole property. The other grass seems happier, the trees seem happier, I'm happier; it works.
There's a sense of relief and pride that comes with finishing a project that's been on your dockett for years. We now have a usable front yard that doesn't stab your feet as you run out to grab something from the car barefoot. With the shed, the flattened lawn, and the trampoline, we now have the backyard we've envisioned for awhile. It's all come together. That project's done. Next we battle the mosquitos.
My web component workshop and my web component talk
The second week of April I headed up to Minneapolis to do my Frontend Masters workshop. My whole year so far had been working towards that, so there's a sense of relief to have that checked off my to-do list. A months worth of nights and weekends went into preparing the course, building an entire online guidebook for the course, and making slides. Then for that workshop day you have to upload an internet's worth of know-how into your "Brain RAM", it's a bit overwhelming. But I think it went well, I learned a lot about giving workshops, and I look forward to people's feedback when the course gets released.
The next week I did my web components talk at An Event Apart and a LIVE ShopTalk as well. The crew at An Event Apart work hard to put on a good conference. Wil Reynolds's talk on SEO keeps rattling around in my brain the most. He spoke about how the context of words change when they're next to other words, and if you manage to win the keyword lottery how do you meet customers expectations by delivering on those words. You should find this talk, I'm not doing it justice. Thanks again to AEA for having me.
Thus ends this spring conference season for me. I haven't made any hard decisions about speaking at future conferences, but I am acknowledging to myself they are a tough fit for me and my life right now while starting a new company (Luro). As I understand my chaos brain a bit more, diverting extra brain cycles to prepare a talk while doing my job, life, kids, etc was a skill… but now it's a pretty risky maneuver to add to the Jenga tower of obligations without careful consideration.
Baseball and the suburban life
We are deep into the shuttling kids around to their activities lifestyle. While my wife does most of this, I spent a lot of April evenings down at the baseball fields with my son Otis. I didn't know if he'd every want to try baseball again after COVID cancelled his first season of baseball. A weird side effect of parenting small kids thru COVID is its not uncommon that they might have missed some critical socialization windows or —in our case— learning how to play group sports. Thankfully they have a cohort of kids in the same boat.
As each week progresses Otis is getting better at hitting, throwing, and fielding. It's great to see him start to figure out the mechanics of the game and his body. Although it wreaks havoc on bedtime routines, it's been a fun ritual to be out watching these kids learn and play the game under the lights of the field. It's a good little taste of Americana.
Baseball is a bit of a flash mob event though and the season ends the first week of May. He's excited his team has a chance to go to the championship, but I can't tell if that's a real thing or a thing he and his teammates made up. I think we're already looking at signing up "fall ball", my daughter Emi wants to play too. Looking forward to that if it happens.
I turned 42
At the end of the month, I added another year to the sum of my lifespan. This happen most years so it wasn't a shock. Somewhere Neil deGrasse Tyson is saying "Space doesn't care about your birthday", but birthdays are still nice to have sometimes.
To celebrate this year, we kept it a bit low-key and had groups of friends from different corners of my life gathered at my house in my new backyard. We ate BBQ and drank swampwater while herds of kids migrated between the house and trampoline and back, zig-zagging around us like the mosquitos. I had a great afternoon/evening and I'm thankful to know such wonderful people.
---
Stats
What you all actually came for. Ugh, nerds.
💪 Fitness - Mediocre performance.

Closed my rings 9 times.
I was under 240lbs (Goal! 🙌) but only for one day. I think a single HIIT workout did the trick. So will try more of those.

🧶 Crafting - No big crafts.
📖 Reading - Two books about the apocalypse.

Station Eleven - The book that inspired the HBO show (I haven't watched). Great book. A little too close to home with the central premise being a pandemic and whatnot.
The Ends of the World - Recommended by Rob Dodson, The Ends of the World a scientific retelling of the five mass extinction events that have already happened on the earth and a look how humans are catapulting ourselves towards another event. Ironically, not as anxiety inducing as the apocalyptic fiction book.

📺 TV, Movies, and Anime - Mostly just YouTubes.

Al Bladez - extreme tall grass lawncare
Speak the Truth - a look at the Ukrainian war from a tactical military perspective
Went on a weird bender about how Egyptians built the pyramids.
Lots of "wet fart prank" videos. I ain't proud of it, but it gave me some joy this month.

👾 Video games
🎙 Podcasts and YouTubes - A pretty standard month

Recorded a workshop for Frontend Masters
No ShopTalk videos, but will resume in May.

📝 Blogging - Good month of blogging. 7 new posts. I'm ahead on my blogging OKRs for the quarter. And, as you can see, I've started on an open redesign project. May be doing some streams soon.