Every holiday season I try to lock my computer in a safe so I don't see it for a couple weeks. As I pulled the Surface its vault and powered it on, I had a short conversation with myself:
Brain: "You don't have to do this, you know?"
Me: Do what?
Brain: "Dave Goes Windows. You can just stop. Switch back to Mac and things will be the same as they always were."
I paused for a bit. My brain was right. Originally I wanted to try this for a year, but I'm in no way committed. Since the New Year is a fresh start, I could just send the Surface back and resume my life the way things used to be. I sat there for a few minutes looking at the Surface, then the Macbook, back to the Surface, back to the Macbook.
I chose the Surface. It has its quirks (apps crashing, restarting, things ejecting) but I'm having fun exploring the Windows ecosystem. Tumbling down the Microsoft product line has been rewarding.
Third party products bring excitement as well. Watching CES this year was a little more fun because I'm not waiting for Tim Cook on a black stage tell me what two new features I'm going to buy this year. Look at this $99 PC. Or this Windows Hello-compatible Razer 3D Webcam. Or this Razer ultrabook that docks into a "core" to turn it into a gaming rig. There's lots to get excited about.
Each of these is probably deserving of their own post, but I thought a quick recap of the good, bad, and mixed feelings I'm experiencing:
The Good
Edge is still my daily browser. If you see Edge show up in your site analytics, "Hi! That's me." I like it. It's fast, lightweight and rarely do I feel any of the hurk-jerk rendering I experience with Chrome. Chrome is borderline nauseating when I switch back.
OneNote is a fantastic cross platform note-taking app. This holiday season when I was mobile-only, I outlined a whole talk in OneNote just using my iPhone. My favorite feature is converting a list of bullet points into TODO checkboxes. It also has group sharing built-in.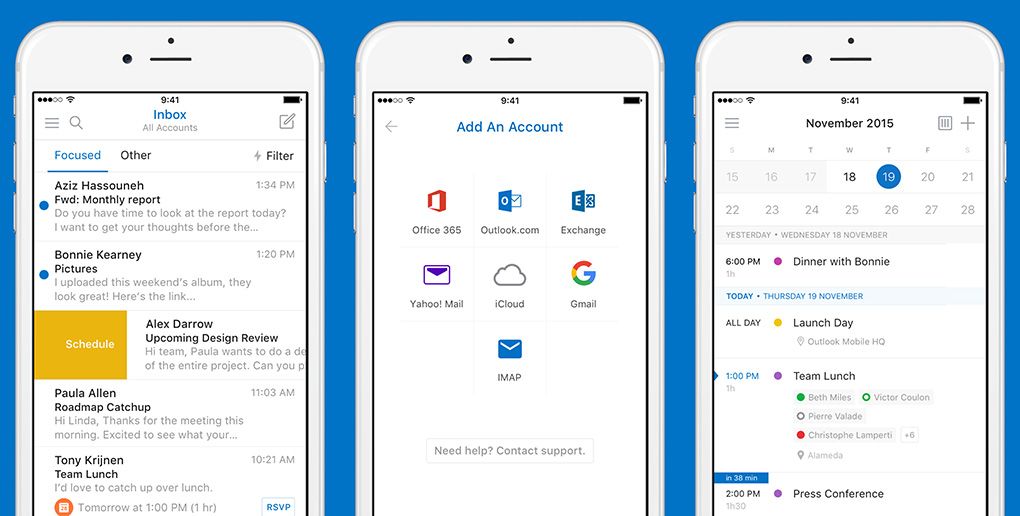 Outlook for iOS is fantastic. It's the beautiful hybrid of two well-regarded iOS apps, Acompli (mail) and Sunrise (calendar), which were acquired by Microsoft. The death of Mailbox made Outlook very easy to pick up. Speaking of apps dying…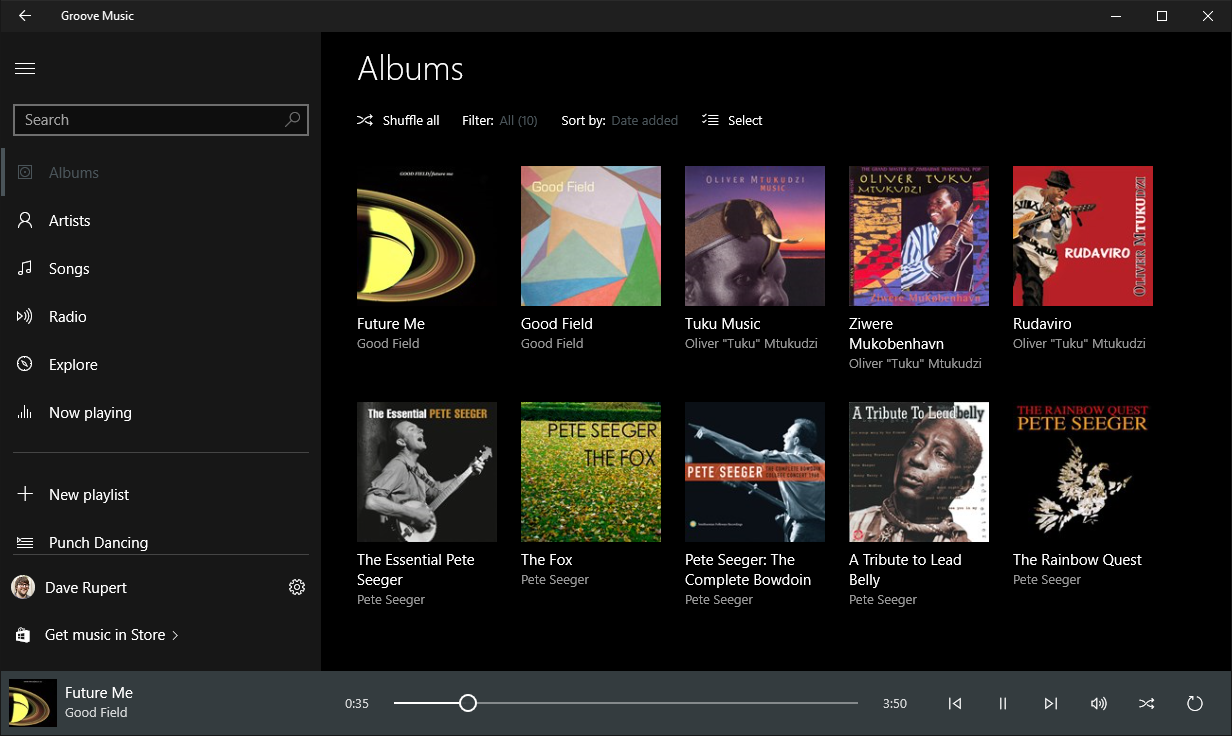 Groove has become my streaming music service after Rdio shutdown. Spotify doesn't entice me at all. You've probably never heard of Groove, neither had I. It looks great tho. Has lots of music. Emphasis on albums. Plays music from your files stashed in a OneDrive. Works on Windows, iOS, Android, Web. Most important feature is Dark Mode so you can murder it out if you want.
The Bad
Skype and I have beef. At random (read: whenever I start a podcast), I'm unable to start group calls. I actually talked with Skype people about it! We thought the issue was an errant privacy setting, but the issue has resurfaced. If a single issue breaks this Windows experiment, it's this, ironically from a product they own.
Edge doesn't support extensions. The lack of 1Password in my browser is beginning to bum me out. I've probably got ~3 months of patience left before I do something like switch to Firefox.
The occasional micro-task, like sshing in to fix a server, is just plain easier on a Mac. I guess I could install PuTTY? I dunno, that seems ancient. I'm contemplating a Linux VM so I don't have to switch physical machines.
The Mixed
I bought that new Surface Pro 4 Type Cover with Fingerprint ID. The keyspacing is great and fixes all my issues with the previous type cover, but the biometric fingerprint scanner didn't work until today after a series of updates. It's very cool I have it now, but the unboxing experience let me down.
My Microsoft Designer Bluetooth Desktop keyboard is a great keyboard, but the plastic squeaks a bit when I type. I'd like to grease the keys but not sure how they come off.
I'm enjoying Groove, but it isn't social. Music is social. Also the Queue feature of Rdio is dearly missed. God, I miss Rdio.
Windows needs to step up their emoji game. I really like the minimalistic "flat" style, but the lack of contrast at small sizes makes them illegible.
Takeaways
I have two key takeaways at this point, specifically from the Skype stuff:
Quality matters. When things don't work people feel frustrated and hopeless. If they can jump, they will. Especially if your release cycle is unclear and there's no assurances of a fix on the horizon.
Microsoft has been very available to help me with my issues. People who are certainly too busy and too important for this dumb little experiment have taken their time to help. I think that speaks volumes and definitely not my image of "old Microsoft".
So the experiment continues! I'm having fun. As always if you have questions, let me know. Happy to investigate things if I have time.