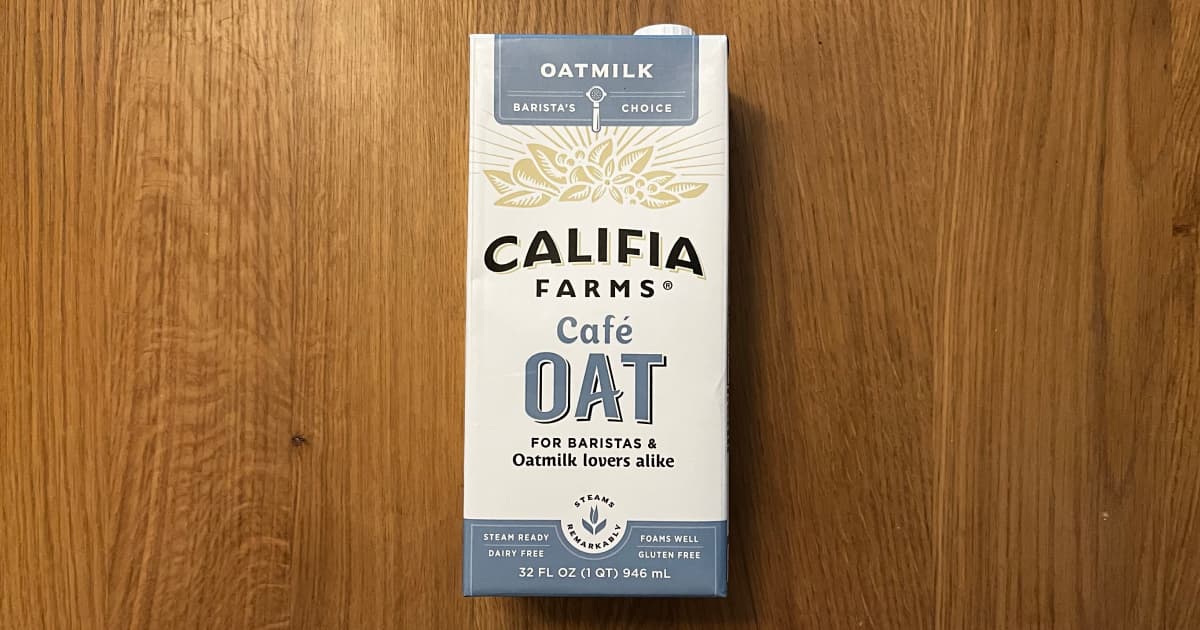 As part of my weight loss journey, I've nearly eliminated dairy from my diet. I still eat some cheese but I don't have a plate of nachos and three big dawgs of milk right before bed anymore. A cold glass of milk is tastier than a beer to me which created a struggle to give it up. The hardest place to ditch my dairy habit was coffee creamer. A lot of non-dairy creamers exist in the market, but the (not-so) secret is they replace lactose with high-fructose sugar. While coffee that tastes like a Cinnabon is fun, it's not super healthy if weight loss is a goal.
I've tried almost every almond, oat, and plant-based alternative out there and the best one I've found is Califia Farms Oat Barista Blend. It's kosher, vegan, non-GMO, gluten free, and dairy free but that's not what makes it great. It's the right blend of creamy and flavor without being too sweet or ruining the beverage with a stevia aftertaste. A dash of it will cloud into the beverage and evenly disperse itself like a milk product, which is a weird esoteric mouthfeel where not all non-dairy products succeed.
Best part is you can buy it in bulk from Costco under the Califia Farms Café Oat store-specific packaging. It comes in those large quart cartons that chicken broth comes in. No more remembering where you got that last non-descript quart-sized Tetra Pak, you can have a garage full of shelf stable non-dairy milk-like beverage that "foams well". If bulk is not your thing, you can buy the regular Oat Barista Blend at Whole Foods or other national grocers.
Honorable mentions from my travels through the faux-dairy aisle:
Oatly Barista - A cool punk rock zine themed oat creamer that they sell at Whole Foods. This is what they use at Starbucks.
Trader Joe's Non-Dairy Oat Creamer Brown Sugar Flavor - It's got "brown sugar" in the name so y'know it's tasty but not healthy. It's sweet – so sweet that it's sticky on your fingers or your face when it drizzles down your beard. Available at Trader Joe's in pint sizes.
Chobani Oat-Based Coffee Creamer Vanilla - Chobani is the most flavorful and has the most flavor options as well as non-oat, non-dairy varieties like Maple Glazed Donut. It's a "little cup of Irish Creme-flavored Coffee Mate you got at a budget hotel breakfast bar" style sweetener available at most national grocery stores.