I love having web browsers read blog posts to me. Through years of training with podcast, my audio processing skills are much better than my reading skills. I use it like a piece of Assistive Technology to keep my overactive brain from getting distracted mid-post. But I could never get that experience on my iPad… until this week.
On desktop I've homerolled my own SpeechSynthesis API tech to have browsers read to me. I've used Edge's "Read aloud" feature. Now that I'm on Arc, I use the Read Aloud text-to-speech extension. But mobile has always been a subpar experience. I've done hacks in the past where I had Siri try to read a page, but that never worked great.
This week Mobile Safari 17 arrived in the new iOS and iPadOS which has a native "Listen to Page" feature which can read pages to you without extensions or hacks. To enable Listen to Page on any webpage, open the options menu in the location bar and tap "Listen to Page".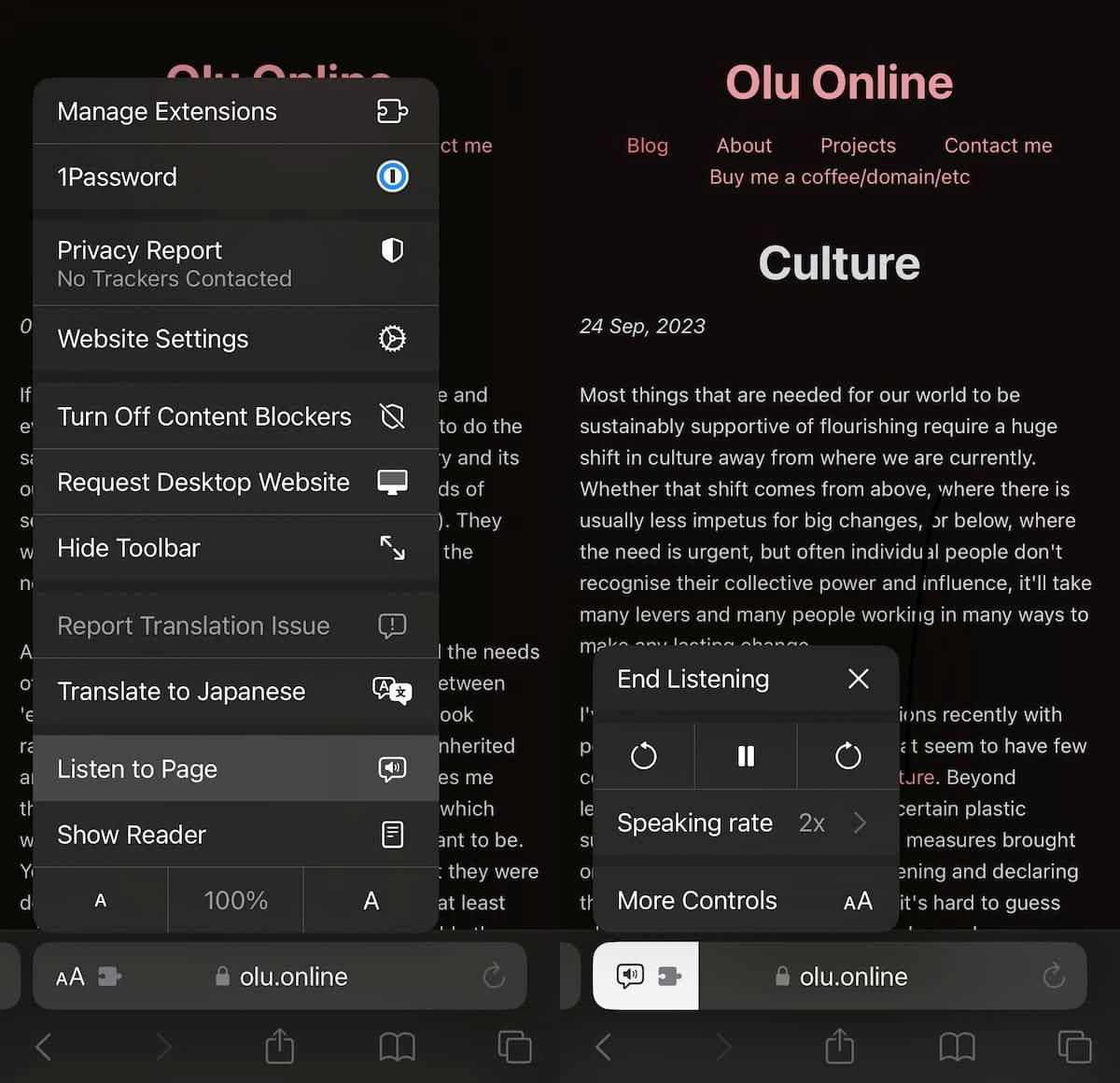 Safari will now read the page to you. It's like a baby audiobook. And it works in the background when you swipe out of Safari and even the lock screen. You can even listen to webpages in your car now.
To control the speed of the playback, open the location bar menu again while listening and a new "Listening Controls" option replaces the "Listen to Page" option. Tapping into that menu option lets you set the "Speaking rate" to whatever is comfortable (2x, natch 😉).
In my anecdotal experience, accessing the speed controls was a little bit buggy. On both iPhone and iPad, I had to listen to a page at 1x first before getting access to the Listening Controls menu option. YMMV, but the option showed up and I was able to enter podcast dork nirvana.
Anyways, I'm thrilled to have this feature and it will enhance my RSS and social media experience.