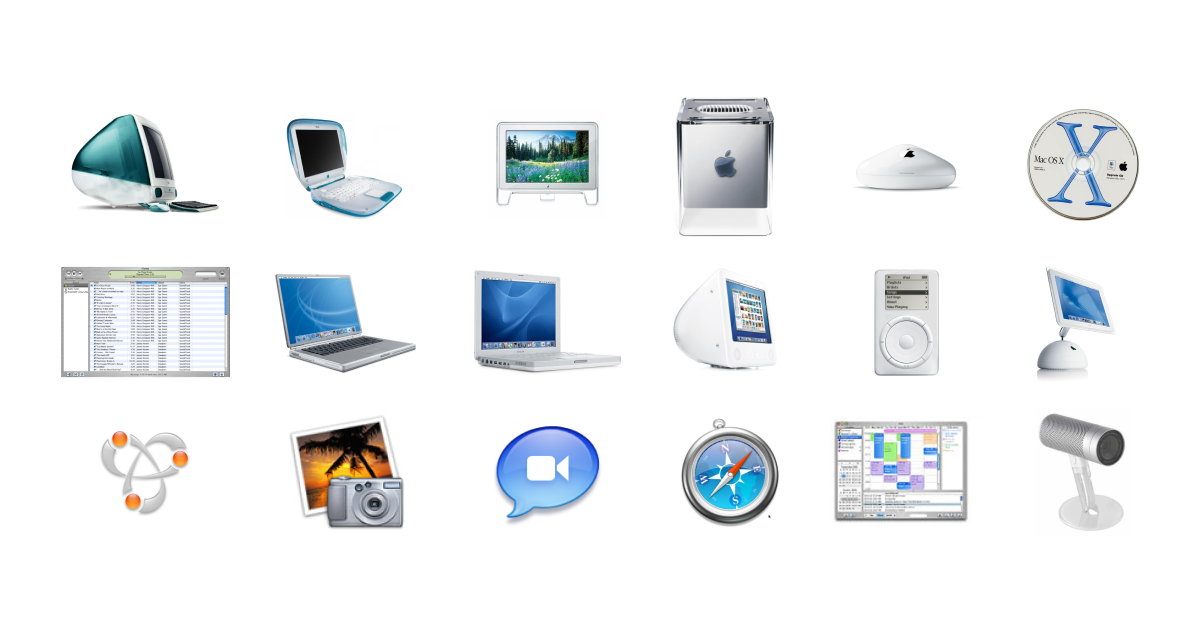 Whenever you hear about the success of Apple in the early 2000s you hear about the magical devices: the iPod, the iMac, and ultimately the iPhone. Those were no doubt magical inventions, but I want to rewind the clock a little bit and look at what was happening at Apple in a four year window around the launch of OS X and the iPod.
Between the years 1999-2003, leading up to and after the release of the monumental OS X, Apple experienced a leap forward in product design and developed a cadence of releasing or updating a product nearly every 2 months with announcements filling in the marketing gaps before going on sale.
I pieced this less-than-pristine dataset together from Wikipedia, MacWorld, and Archive.org Screenshots of the Apple Homepage. If there are any inaccuracies or missing items please let me know and I can correct them.
Year
Date
Hardware
Software
Other
1998
March
🆕 Apple Studio Display
 
 
May
🆕 PowerBook G3
 
 
Aug
🆕 iMac
 
 
1999
Jan
🔼 Power Mac G3 (Blue and White)
 
 
May
PowerBook G3 ("Lombard")
 
 
Jul
🆕 iBook
 
 
Sept
Cinema Display 22"
 
 
Oct
iMac, Power Mac G4 (Graphite)
 
 
2000
Feb
PowerBook G3 ("Pismo")
 
 
Jul
🆕 Power Mac G4 Cube
🆕 Apple Pro Mouse (Black)
 
 
Sept
iBook (FireWire)
 
 
Jun
🆕 Airport
 
 
Sept
 
🆕 OS X Public Beta
 
Oct
 
🆕 iTunes
🆕 Office:mac
🆕 1-Click Button
2001
Jan
🆕 PowerBook G4
🆕 Power Mac G4 w/ Superdrive
iMac
iBook
 
🆕 Apple Stores
Mar
 
🔼 OS X 10.0 (Cheetah)
🔼 Final Cut Pro 2
🔼 iTunes 2
 
May
🔼 iBook (White)
 
 
Jun
 
🆕 Mac OS X Server
 
Sept
 
🔼 OS X 10.1 (Puma)
 
Oct
🆕 iPod
 
 
Dec
 
🔼 Final Cut Pro 3
 
2002
Jan
iMac G4 15"
🔼 iBook 14"
 
 
Mar
Cinema HD Display
 
 
Apr
🆕 eMac
 
 
May
🆕 XServe
🔼 QuickTime 6
🆕 Bonjour
Jul
🔼 iPod (2nd Gen)
🔼 iMac G4 17"
🔼 iTunes 3
 
Aug
Power Mac G4
🔼 OS X 10.2 (Jaguar)
🆕 iChat
🆕 Safari
🆕 Keynote
 
Sept
 
🆕 iCal
 
Nov
iBook (800 MHz)
 
 
2003
Jan
🔼 PowerBook G4 Aluminum (15"/17")
 
 
Apr
🔼 iPod (3rd Gen)
🔼 iTunes 4
🆕 iTunes Music Store
May
Apple Mouse (White)
 
 
Jun
🔼 Power Mac G5
🆕 iSight
 
 
Oct
iBook G4 (12"/14")
🔼 OS X 10.3 (Panther)
🆕 XCode
iChat AV
🆕 iTunes 4 on Windows
 
Nov
🔼 iMac G4 (20")
 
 
🆕 = New products — 🔼 = Major upgrade
I refer to this as "The Surprise Chain"; unexpected but delightful product improvements delivered on a regular cadence over an extended period. A new product here, an improved product there, constantly building momentum through repeated surprise.
The Effect of the Surprise Chain
Mastering a steady cadence of product updates and releases had a massive impact for Apple. For Apple fans, their favorite tools and hardware kept getting better and more capable. A new thing to talk about. A new thing to buy or upgrade to. That is an incredible —unquantifiable— user experience feeling.
For Apple as a brand, it kept their name and new products continuously top of mind in the tech news cycle. "One more thing" only made sense because subconciously you expected it. They always seemed to have something up their sleeve. This must have been a monumental amount of effort across dozens of teams —a Herculean task for a company pulling itself out of the grave— but they pulled it off in spades. To Apple's luck, their product releases and OS upgrades also coincided with a wave of PowerPC advancements. And when that plateaued and Apple made even more headlines by switching to Intel.
Some might mistake this as a "Ship Early, Ship Often" lesson, but to me it's different. Apple never "ships early" to put it mildly. It's "Ship on a cadence. Always be delivering good to the user."
Who is doing the Surprise Chain now?
Apple still maintains this cadence to some degree, but the release cycle has slowed down dramatically. We get a February update of some kind. macOS and iOS updates for WWDC in June. September is an iPhone event. October is iPads and Macbooks for the holidays. Year over year. It's become a bit ho-hum predictable. Which makes me wonder, who is doing the Surprise Chain today?
The best, most recent example of the Surprise Chain that I can think of is the musical artist Drake. From 2015 to 2019 Drake released a new single every ~2 months. Drake seems to have been able to exploit the music industry's new reality of "no one buys albums" by only releasing singles. This strategy no doubt kept his name and his brand in the limelight and on the top of radio charts and streaming platforms for years in a row. It's a feat that has made him one of the most successful music artists of our time. Unsurprisingly, Drake started his partnership with Apple Music in 2015.
Another example of this is the indie game publishing house Devolver Digital. Devolver publishes games from smaller indie gamedev studios and has published 131 titles since 2009. Zooming in to more recent years, Devolver has published 69 (nice) games from 2017-2021 averaging over a game a month. As a result, a title by Devolver is always in the zeitgeist as new games get announced or titles get ported to new consoles and app stores. Worth noting, in 2018 Devolver hired a former Apple App Store business manager as VP of mobile publishing.
Lastly, one product building the Surprise Chain into the core of its business is Panic's new game console Playdate. The strategy for the Playdate is a bit different than traditional consoles, instead of buying individual licensed games, you buy a subscription for your device and each week or so a new game gets delivered to your device. Brilliant. They are building in suprise. It will be curious to watch Panic, traditionally an Apple software development studio, make its first foray into hardware. I think they have the right formula and heart behind it.
Surprise and delight
In all the talk of "surprise and delight" I think we tend to focus on the micro, little transitions and interactions, and forget the macro. Sometimes delight can be the cumulative effect of everything getting better consistently over time and surprise come from the fact that it keeps happening. A constant perking up of the ears.
It's an immense amount of effort to pull off and —to be clear— none of these companies or artists are "lean" in the traditional sense. They never ship unpolished products to their users. They polish their products a thousand times over. They have developed a production line able to sustain the development of multiple high-quality products and deliver them on a cadence. Each on their own are enticing, but together produce a harmonic effect, sustained over years, not a single release.
I think about The Surprise Chain often. I think about how it may offer a slightly different business model than what the startup scene offers. It's not about big album drops anymore, it's about releasing singles every two months over a five year stint. It's about learning how to develop a cadence that benefits the audience. It's about putting in the time for prototypes, playtesting, and research beforehand so you know you're building something your users will love. And sometimes two or three singles will drop in a month and your users will love you for that because you suprised and delighted them.