Mr. Rupert we're calling to let you know you're overdue on your homeowners insurance policy and if you do not make a payment by midnight tonight your policy will lapse.
I got a disturbing voicemail as I was heading out to dinner with my family one recent Friday night. Not paying my homeowners policy puts my loan in jeopardy which puts my house in jeopardy and… It all worked out in the end, but for me this was a soul-crushing exhibition in failing at my responsibilities.
I know it happened becuase I've been busy at work on a few different projects. Lots of cognitive load being spent on two independent projects rushing towards the same deadline. The utter shock of missing such an important bill made me take a step back. I decided it'd be worth the effort to take inventory of all my obligations and try to grasp the bigger picture of my predicament.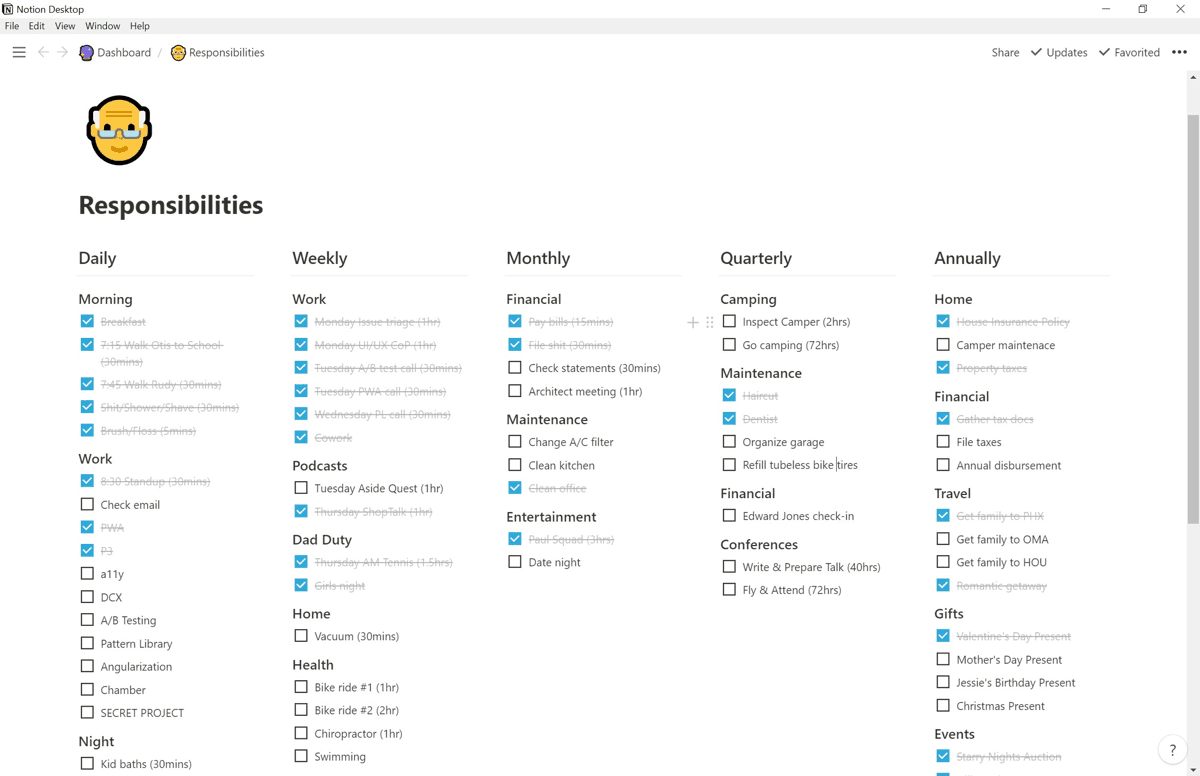 I opened Notion and made a Daily, Weekly, and Montly column in a new page. As I added more necessary and aspirational tasks I realized I need two more columns: Quarterly and Annually. The columns are being added to and refined as I go throughout my days. Itemizing responsibilities in this way has a Bullet Journal quality that I enjoy (except entirely digital, but you could do this on paper). The list feels both immense and finite.
One byproduct of this exercise is that I now have an inventory of tasks that I can choose to either Accept, Reject, or Offload. And I have insight into the cost of adding something to either of the columns. Let's say I want to make a video game, pick up a monthly service project for a non-profit, or (surprise!) my son's new swim team has mandatory parental participation; new responsibilities now have a quantifiable impact in the column they occupy.
It's a bit obsessive and trite but quantifying what I need to be thinking about on a daily, weekly, monthly, quarterly, and annual basis has helped my brain immensely. My 5-column board gives me a 10,000 foot view of everything I need to get done to feel like a responsible adult. It's still early days but I'm pleased with the results thus far and have begun offloading more parts of my brain into Notion.