Big news! This site is no longer using Google Analytics and I've switched to a self-hosted version of brand new analytics product Fathom.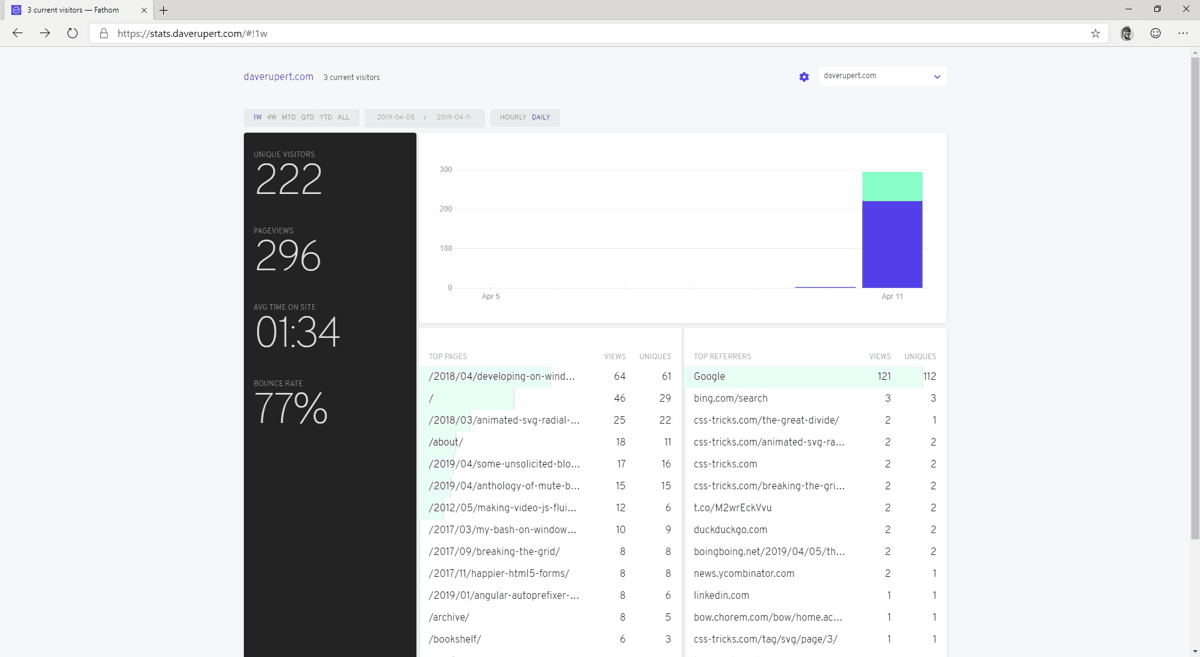 Fathom is very simple. It only tracks 4 things: Unique Visitors, Page Views, Time on Site, and Bounce Rate. It shows me a chart of page views and visitors and then gives me a break down of referrers and top performing content. That's it. And to be quite honest, that's about all I need from my blog analytics.
Setting up Fathom is a breeze. Fathom offers a few hosted plans, but also offers a self-hosted open source Community Edition with a 1-Click Install on DigitalOcean. Deploy the app, secure it, forward the DNS, run certbot, and copy the analytics snippet. This ~4 minute video shows you how to get up and going.
And that's it. It was really that fast and I rolled out my new analytics between a couple rounds of Ovewatch. It reminds me of the old blogging days when we all used Shaun Inman's Mint analytics. It feels freeing to not depend on Google just to know how many people I'm having over to my breakfast table.
Why ditch Google Analytics?
Well… /me puts on tin foil samurai helmet... I'm concerned about Google's business model and its surveillance of the Internet (he says after embedding a YouTube). With a click of a button I can install "Enhanced Analytics" and start getting demographic information on my visitors: ages, genders, and whether or not they're in the market to buy a car or house. I can't see individual user data, but it hints at the kind of data Google pieces together about you as you browse the Internet.
Acknowledging my ignorance here, it's not clear what data I'm contributing to Google's collective knowledge. I'd rather be more conservative with my own data collection on my site. I also feel the answers I want visualized are buried in Google Analytics. In many ways Google Analytics has grown to become a product that's overkill for this blog and my needs.
There's also an empowering #indieweb feeling about owning your analytics too. I pay for the server my analytics collector runs on. It's on my own subdomain. It's mine. Sure, it costs me $5 a month for DigitalOcean, but I now rest a bit easier knowing what data gets collected and who aggregates it. The answer is me. I'm the sole aggregator.
As someone who love charts and graphs, it's a little bittersweet leaving 10 years of analytics data behind. Thankfully they are pretty round numbers. After 10 years nearly 1,000,000 unique visitors have generated 2,000,000 pageviews on this little blog. And just to make myself feel even more inflated, I'm going to double all the metrics since y'all all use ad blockers.
But seriously, I didn't even realize I had crossed the 10 year mark on this blog. Feels like a major milestone and I'd like to say thanks to you, Dear Reader, for coming around and riding along on this little thought vomit comet. It really means a lot.